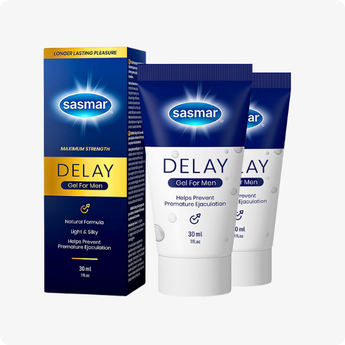 Sasmar Delay Gel
30ml
Water-based desensitizing gel formulated with nourishing ingredients suitable for use by men looking to extend pleasure.
SASMAR Delay Gel For Men is a refreshing gel specially formulated to provide a slightly cooling effect and naturally help delay climax and extend pleasure during activity.
Free Delivery on orders £35 or more
Delay Gel has a nourishing effect and is quickly absorbed into the skin. Be in control and enjoy the pleasure more and for a longer period of tim.

- Laureth-9: is a local anaesthetic and a surfactant commonly used in beauty products. It also allows the active ingredients and water molecules to bind together perfectly.
- Avena Sativa Kernel Extract: It's high in iron, manganese, and zinc.
-The extract offers many health benefits, including improvements in brain health, stress, and physical and performance.
- Hypericum Perforatum Flower extract : The extract of this plant is commonly used in the treatment of exhaustion and nervousness; in addition to its uses as a remedy for skin diseases, superficial injury, and mucosal lesions.
- Menthyl Lactate: Excellent for skin care, it also has a very pleasant cooling effect that helps in climax control.

✅ Water-based Desensitizing Gel
✅ Nourishing Effect
✅ Naturally Helps Extend Duration
✅ Pocket size tube
✅ Full sensation


Apply a thin layer of the gel on the penis and then massage it in thoroughly 10 to 15 minutes before intimacy.

Indications:
To be used prior to sexual intercourse to help prolong and extend intimate pleasure.

Caution:
Before using the gel on a regular basis; apply a small amount to your forearm. If an allergic reaction occurs, discontinue use. For external use only. Keep out of reach of children. Store in a cool dark place.

Aqua, Glycerin, Laureth-9, Arylates/C10, Alkyl Acrylate Crosspolymer, Polysorbate 20, Hypericum Perforatum Extract, Avena Sativa Kernel Extract, Aminomethyl Propanol, Menthyl Lactate, Alcohol, Phenoxyethanol, Ethylhexylglycerin.
Fast Shipping
Delivered in the UK within 2-3 business days and free shipping on orders over £35.
Questions?
Email us at help@conceiveplus.co.uk and we will be happy to help you.